Exploring the world of aromatherapy can lead you down a new path filled with enjoyment, well being, and discovery. Please remember that the expansive world of aromatherapy need not be daunting or confusing for the novice to enter, nor for the acquainted to venture farther into. Since the benefits of these natural oils are numerous and multi dimensional, there is no one set formula as in "one size fits all". This makes it exhilarating to experiment and find your own preferences. Follow your instincts, be observant as to how it makes you feel. Your uniqueness of body, spirit, and mind will dictate and guide you. This is the best advice given me when I was first learning. This quick reference chart is meant to serve as a simple and practical guide to using aromatherapy oils in everyday life.
Using Blends and Synergies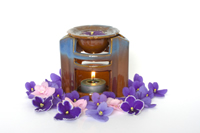 Search our free database of aromatherapy recipes and save money by learning how to blend essential oils at home to create your own unique synergies. Essential oils can be used to make quality bath and beauty products, cure common illnesses, and enhance your home. Create an intimate moment, splash on some fun with refreshing body mist, or spread the joy with an uplifting, deodorizing room spray. Therapeutic grade essential oils are used in healing touch and massage therapies. Essential oils can also be used to clean and disinfect the air we breathe, while lifting and calming our spirits.
Organic Botanical Skin Care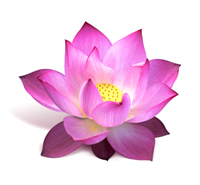 Vegetable, nut and seed oils are an important part of aromatherapy skin care. With few exceptions essential oils are too strong to be used undiluted on the skin. These natural skin care oils can also be used alone, as well as being used as carrier oils for aromatherapy skin care formulas. Body butters, aloe gel, and aromatic herbs and flowers also form the basis for aromatherapy applications.
Certified Organic Essential Oils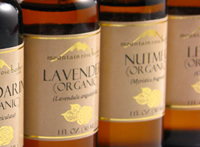 Mountain Rose offers one of the nations largest selections of certified organic essential oils that have unsurpassable fragrance, exceptional depth, and keynote. These magnificent, therapeutic quality oils are 100% pure steam distilled from freshly harvested plants, free from pesticides, and undiluted by carrier oils or fillers. Highly concentrated, fragrant oil, rich in chemical compounds of the mother plant - straight from Mother Nature to you.