Homemade foot powders, body sprays, and perfumes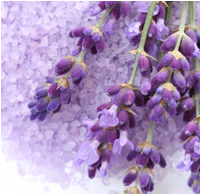 Homemade foot powders, sprays and deodorants combine anti-bacterial herbs and oils with organic, bulk ingredients like Orris Root, arrowroot powder, simple cornstarch, and white clay. These natural, non-toxic bases replace the aluminum chloride and boric acid used in OTC deodorants and antiperspirants. The anti-bacterial and antiperspirant properties of essential oils and herbs eliminate odor-causing bacteria while adding their own distinctive fragrances. Essential oils of Sage, cypress, patchouli, and rose are often anchored with resins like benzoin, and sandalwood in deodorizing blends.
Hydrosols, or flower waters are also a great medium for natural body perfume sprays, and deodorants.