Aroma Lamps and Diffusers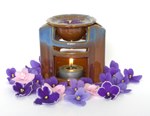 Aromatherapy lamps bring a warm ambience to any room and uplift and calm the spirits of their inhabitants.. You can choose from an array of beautiful designs to fit your decor, and your needs. Use lamps and diffusers to cleanse and refresh the air with the subtle scents of the pure essential oils.
15 to 20 drops of a blend can be used at a time in most standard sized lamps. Candle lamp bowl should be of a non-porous material, like ceramic, marble, glass or porcelain.
Follow directions on electric diffusers.
Aroma Lamps and Room Diffusers Recipe List