Aromatherapy skin care oils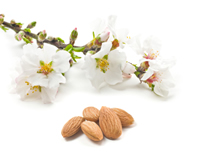 The carrier oil you choose for skin care is important. Heavy oils like coconut, and body butters like shea butter can clog facial pores. Use light oils like almond and jojoba for facial blends and sensitive skin care. Pure Aloe gel and organic vegetable glycerin are also used as base carriers in aromatherapy skin care blends. Oils that are petroleum based like most commercial baby oils provide a protective layer against wetness because they have large molecules that lay on the surface of the skin. This doesn't work well when your goal is to have the carrier and essential oils penetrate the skin to provide deep healing.
When applying essential oils to the skin, always dilute with a carrier oil before applying. Most aromatherapy massage oil blends for skin care call for 5 drops of essential oil per teaspoon or 15 drops of essential oil per tablespoon of base carrier oil. Since 1 tablespoon is just a bit shy of 15 milliliters (14.79ml), this gives you a one percent solution. Use this measure as a starting point, and add common sense, and sensitivity testing to find the right strength blend for your skin type.
Skin Care Oils Recipe List