Aromatherapy Facial Steam, Steam Inhalations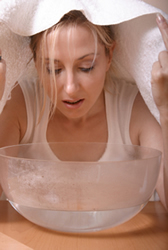 Steam is one of the best methods to ease breathing and break up congestion. 2 - 3 drops essential oil, or a handful of fresh herbs such as eucalyptus in a bowl of hot water. Make a tent over your head with a towel.
Close your eyes
lean over the bowl and breathe in the steam for about a minute.
Facial Steam, Steam Inhalation Recipe List